As California reopens, we continue to vigilantly follow guidance from Santa Clara County EOC, CDC and CDA. As a healthcare facility that treats children under the age of 12, we will continue to ask our patients to wear masks in the office and follow our covid-19 protocols.
Oral health is inextricably linked to systemic health. Recent studies have found that gum disease may increase risk for COVID-19-related respiratory failure and complications (Sampson 2020, Pitones-Rubio 2020). We have always placed the importance of sterilizing and disinfecting all aspects of our practice as a top priority and now we have taken our diligence to a heightened level. We are trained as healthcare providers on the ways to protect and keep ourselves and our patients safe and healthy, some of the ways this is being done at a heightened level is through the following: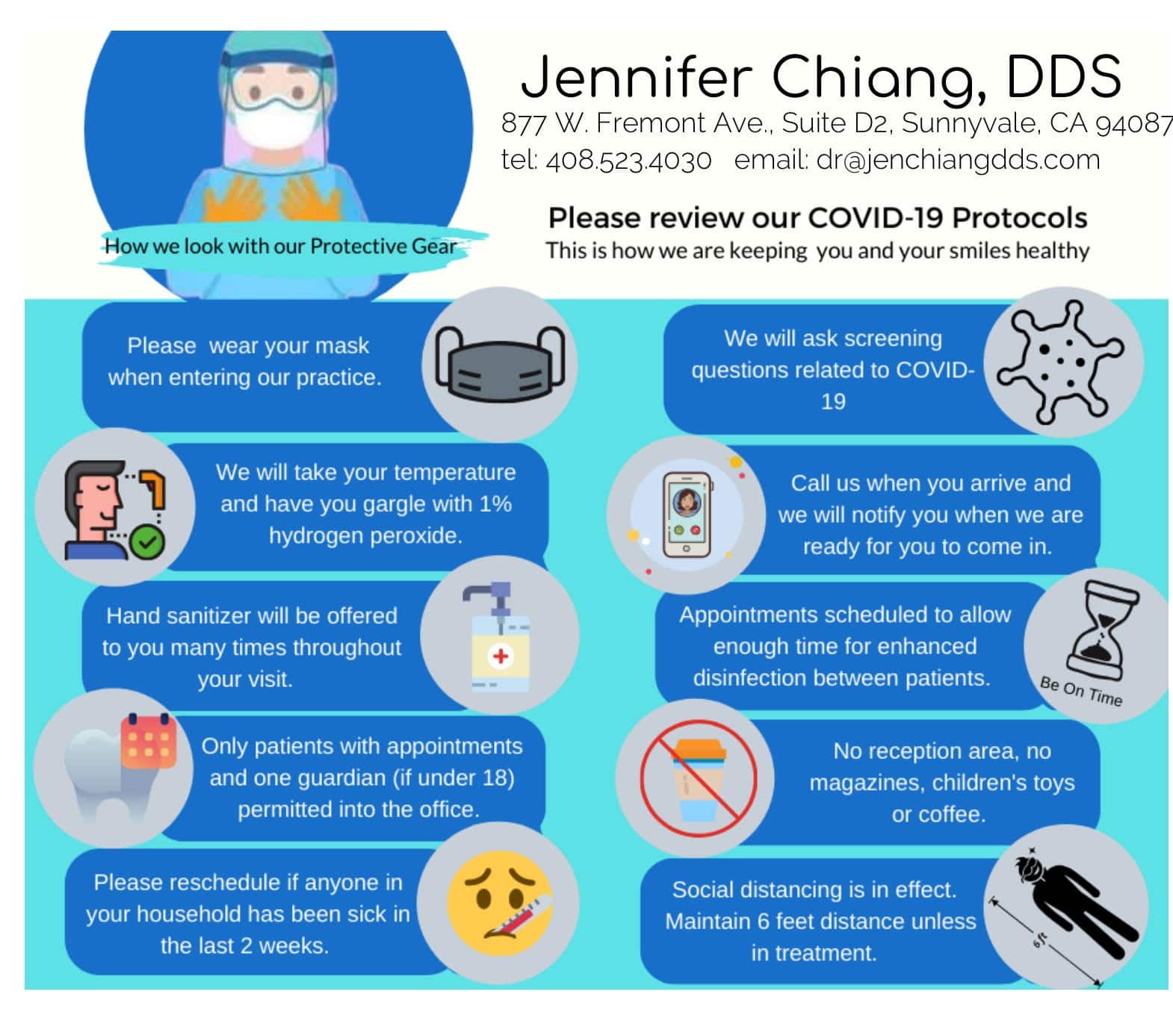 Masks: Please wear your mask before entering the office.
Please call and wait in your car: When you arrive, please call to check-in. At this time only the patient and a legal guardian are allowed in the office.
Temperature: At the door, we will check your temperature. If it is over 99.4*F, we will ask you to reschedule.
Additional screening: We will ask that you sign and verify that you are asymptomatic, have not traveled greater than 150 miles, and have not had close contact with a COVID patient in the last two weeks.
Hand hygiene: Please wash your hands or use hand sanitizer at the start and end of your visit.
Pre- procedure rinse: We will have you swish with hydrogen peroxide for 1 min before the start of your visit.
Apple Pay and Google Pay: Please add your FSA/HSA card to your apple or google pay so that we can process your contactless payment.
Hospital-grade HyperHEPA air filtration: IQ Air is a multi-stage medical grade air purification system unit that filters out more than 99.5% of all airborne particles down to 0.003 microns that has been used by hospitals in Hong Kong since SARS.
Additional Cleaning: We have designated staff that wipe surfaces down every hour. In addition, the appointment time is also lengthened to allow proper disinfection between patients.
Additional PPE: We usually get to greet you all with a big smile; we'll still have big smiles but they will be hidden behind additional PPE as recommended by public health officials to safely operate on patients.
Virtual Patient Tools
We have some new tools that we have implemented to help us take care of you from the comfort of your homes
Virtual Consults: We are set up for secure tele-dentistry consults at https://doxy.me/jenchiang and google meets.
Online Scheduling: Please schedule online via calendly.
Home Prescription Delivery: NowRx allows us to call in a prescription for same-day delivery in the SF bay area at the same price as your local pharmacy.
Virtual Invisalign consults: Please download the MyInvisalign app so that we can receive your photos and notes for virtual consultations and to minimize in-office visits.
Please be compassionate to yourself and our community during these unprecedented challenging times. Wear those night guards and keep up your flossing :). If you have any discomfort, please reach out to us asap so that we can help keep your health optimized.
Sending thoughts of support, hope, and warmth,
Dr. Chiang and Team